Animal-Assisted Therapy Links...
Center for The Human-Animal Bond
Prison Pet Partnership Program
Recommended Readings on AAA/AAT
The following books are some of my favorites ...
Therapy Dogs, Training Your Dog To Reach Others by Kathy Diamond Davis. A nice overview of the basic skills needed in a handler-dog visiting team.
Volunteering With Your Pet, How To Get Involved In Animal Assisted Therapy With Any Kind Of Pet by Mary R. Burch, Ph.D. A good, basic overview of the types of animals and settings suitable for AAA programs, and how to get started.
Handbook of Animal Assisted Therapy, Theoretical Foundations and Guidelines for Practice by Aubrey Fine. A well-researched text geared towards professionals looking to include AAT into their clinical practices.
Between Pets and People by Alan Beck and Aaron Katcher. This book is a well-written review of some of the physical, mental and social benefits to humans living with animals.
Rosie, A Visiting Dog's Story by Stephanie Calmenson. A lovely picture book for children documenting the training of a visiting dog. Includes many nice photos of Rosie visiting with clients in a variety of settings, including children.
Because of Winn-Dixie by Kate DiCamillo. Award winning children's book on how a stray dog brings a community of lonely people together. The protagonist is a little girl who has lost her mother. A touching and moving story for adults as well.
If you enjoy travel and the outdoors with your dog...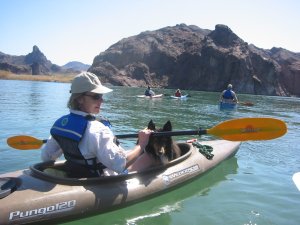 Pam is the list owner of an email discussion group on outdoor recreation
and travel with dogs throughout the Northern & Central California regions.
To learn more visit the Nor-Cal Canine Hikers on the web
Some of my favorite doggie related websites
Caleb's Page: a wonderful site about a therapy dog who travels extensively with his humans!
Stacy's Wag 'N' Train: an award winning site on positive training methods, with a frequently updated listing of doggie related events in the Bay Area
The Bark Unleashed: a print, and web-based magazine, celebrating modern dog culture
Fido Friendly: a print and web based magazine, that serves as voice for the traveling canine
Sheep Dung Estates: a wonderful, quiet getaway for canines & their humans in the Anderson Valley, near Mendocino, Ca.
DogWise: a wonderful web resource on dog related books & products
Moon Doogies: a canine deli and boutique, located in Capitola, California.
Santa Cruz Pet Resort: Angus & Hylander's favorite place to stay when they can't come with us on our travels. They also also provide doggie day care and grooming services.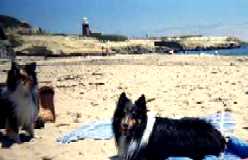 To learn more about the Santa Cruz dog community,
visit the Lighthouse Field State Park Dog Community
And please, if
you are considering adding a dog to your family...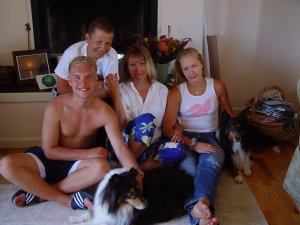 Pictured with Pam, Angus and Hylander are her three children Sam, Mircea and Sara.
Consider working with a rescue group, your local shelter, or a reputable breeder, and welcoming an mature dog into your family. There are so many wonderful dogs in need of homes, and these knowledgeable individuals have much to offer in helping you understand and work with your new dog, so that you can truly become the best of friends.

Pam has been a contributor to the sheltie rescue quilt project. The construction and raffle of the quilt is an annual event benefiting sheltie rescue. The quilt is raffled at the Sheltie Nationals in the spring. All proceeds go to sheltie rescue. The sheltie quilters have raised over $7000 since raffling the first quilt in spring 2000. Please visit the quilt website and support their efforts. To learn more about sheltie rescue, follow the above link.
~A nation's progress can be judged by how they treat their animals. -Gandhi